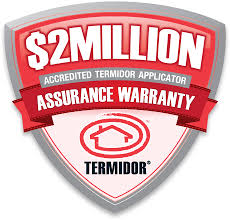 Accredited Termidor HE Applications
Advanced termite control technicians who have chosen to specialise in providing the best available treatment.
Upgraded training to ensure highly efficient installation of an enhanced treated zone with minimal disruption.


Accredited Termidor Applications
Registered professional fully trained in accurate and effective Termidor treatment systems.
The assurance of knowing genuine Termidor products will be used, coupled with the backing of the BASF Termidor Assurance Warranty.
Termite Control & Prevention Specialists

Upper murray pest control are your local termite experts, we can provide inspections, solutions for prevention and treatments. We offer our customers a trusted and professional service for their termite needs. We service the Corryong, Khancoban, Tumbarumba and surrounding areas. Give us a call today!